Welcome To Bolero 2014

Union Lido
2015 Reservations now available!
-
Click For More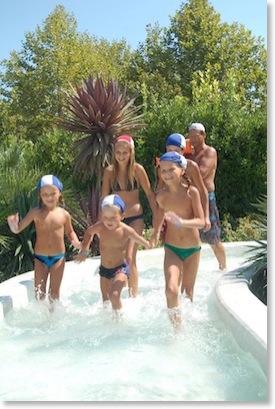 Union Lido
and
Bolero Holidays
is your first step towards the best 2014
mobile home family holiday
in
Italy
. Why not join us at the
Union Lido
park and holiday resort.
Mobile Home Holidays
Mobile home family holidays at Union Lido are freedom. the freedom of choice!
Union Lido is the family and couple mobile home holiday park where you can enjoy your vacation in Italy, surrounded by luxurious modern new facilities and our range of superb 2 bedroom and 3 bedroom mobile home accommodation.
Union Lido is the best of all family holiday destinations rolled into one, and Bolero Holidays will look after you!.
If you have never experienced a mobile home holiday at Union Lido, finding out about the home itself is your first port of call. Firstly, forget everything you may think you might know about a mobile home holiday. Mobile homes are like luxury bungalows or ground level apartments, and ours have double and twin bedrooms, with two or three bedrooms for larger families, complete with relaxing lounge areas, fully equipped kitchens, bathrooms, plenty of storage and you will be able to experience the cool climate control / air-conditioning in the heat of the day at no extra cost with Bolero Holidays at Union Lido.
Bolero Mobile Homes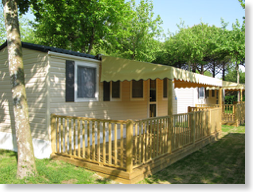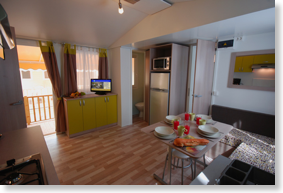 Introducing the Murano, Torcello & Venezia mobile homes available exclusively at Union Lido in Italy.
Every Bolero mobile home comes fully equipped inside as mentioned before, and outside the mobile homes, each one has its own fenced wooden terrace area for socialising and relaxing. A family size outdoor table and plenty of sun loungers are provided along with a sun-canopy overhead that will help provide some relief from the Union Lido midday sun!.
Union Lido - The Best Mobile Home Holiday Park
"Enjoy life on a unique outdoor mobile home family holiday park where the light of the dawn and the warmth of the sun helps nature unfold itself around you."
Our mobile homes are situated on the wonderful Union Lido holiday park, situated on the beautiful Venetian Peninsular where lush green forestry meets golden sandy beaches, and only a short water ferry journey to Venice. Union Lido is perfect for couples and families looking to enjoy long or short break holidays on a holiday park voted Number 1 in Europe, and close to one of the most romantic and well known cities in the world among other exciting facilities such as Aqualandia and Lido de Jesolo.
The Union Lido holiday park offers the freedom to enjoy a multitude of varied holiday experiences each and every day. Why not find yourself relaxing each new day on the exclusive private beach under the warmth of the Italian sun, knowing that any day to day troubles will simply melt away, or go on an adventure and enrol in a scuba diving or wind surfing course and let the magic of the Adriatic sea create fantastic holiday memories. Maybe a good book and a pair of sunglasses are all you need, time to reflect, relax and re-invent yourself.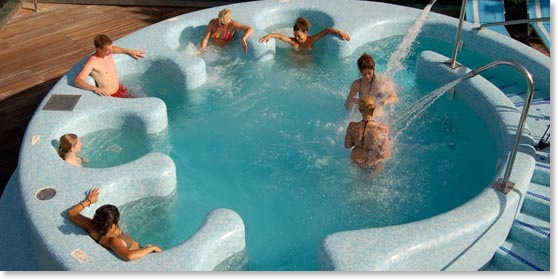 If we strip away all the advertising and the marketing, put simply, Union Lido is freedom. Freedom to come and go as you please, to eat and sleep when you please, to relax or to energise your holiday spirit and take part in Union Lido sporting activities or to invigorate your soul when exploring the local attractions, including Venice, the islands of Murano, Torcello & Venezia the water themed fun park Aqualandia, the fantastic coastal resort Lido de Jesolo and much more…the freedom of choice at the Union Lido holiday park in Italy is yours. Enjoy the best of all holidays rolled into one, and let Bolero Holidays look after you!
The Union Lido holiday park is our passion and we are certain that once experienced, it will become your passion also.
Our mobile home family park quite simply exceeds family holiday expectations.




September 2013 - Union Lido with Bolero
After much research on campsites on the Venetian Riveria and reading many reviews on trip adviser we decided on a mobile home on Union Lido with Bolero.

September 2013 - Bolero Holidays
We stayed at Union Lido for 7 nights from 25th August 2013. 2 adults and 2 children aged 3 & 8.

August 2013 - Bolero Holidays
We have just returned from a two week stay at Union Lido. This was the fourth time we have visited.


August 2013 - Our stay at Union Lido was excellent!
We stayed with 'Bolero'. The cabins were extremely clean and cosy, situated right in the middle of the huge site.


July 2013 - Thank you Bolero!!

We enjoyed a gorgeous week here at the end of June. The location of the Bolero mobile home was fabulous.
July 2013 - Bolero Holidays

Been for another two weeks at Bolero holidays at union lido park & resort and again it was great the staff Bolero were just amazing.

April 2013 - Wonderful holiday with Bolero at Union Lido
A wonderful resort, made better by staying with Bolero.
January 2013 - Excellent Family Holiday
Our family of 6, first visited Union Lido in August 2011 and enjoyed our holiday so much that we decided to return the following year in August 2012.

January 2013 - 25 years plus
I have been going to union lido since I was a baby and my dad has been going since the 70's.


December 2012 - "Union Lido with Bolero - fantastic" – Union Lido Park & Resort

We went to the Union Lido last week August / first week of September 2012 and thoroughly enjoyed it. We are a family with two children aged 8 and 5 at the time.

September 2012 - I love it

I last went to the site 25 years ago when I was a teenager and had really good memories of it. I was really hoping that it would live up to expectations and it did! Everything was as I remembered it but improved.

September 2012 - Bolero Holidays at Union Lido

We have taken our holidays with Bolero for many a year and have never ever been disappointed, in fact we are already pre-booked for 2013 and my family are already counting down the weeks!!

August 2012 - Great Holiday with Bolero at Union Lido

We returned on 9th August after a fabulous trip to
Union Lido
. We booked the site through Bolero after personal recommendations and were not disappointed.

July 2012 - Union Lido with Bolero is magnificent

Just returned from another amazing holiday at Union Lido staying in the Bolero area in a fantastic new
3 bedroom mobile
.

July 2012 - Bolero Holidays - Union Lido Park & Resort

We stayed at Union Lido in June 2012 with Bolero holidays. We had a fantastic time, loved union lido. We can't recommend Bolero holidays enough. (customer also reviewed us in
2011 here
)


July 2012 - Great Family Place

My second successive visit to Union Lido with Bolero. Had a great time and batteries now charged for the year. Holidayed with my wife and three young children

July 2012 - Bolero Holidays - Union Lido Park & Resort

Just come back from 2 weeks with Bolero holiday site at Union Lido would advise anyone to stay with Bolero.
July 2012 - Excellent Family Holiday with Bolero
We returned last week from a four week stay with Bolero at Union Lido. We have 4 young children aged from 6 months to 5 years old and we all had a brilliant time and have already booked for next summer!

July 2012 - Fab Holiday

We have just returned from a fabulous holiday at Union Lido. We stayed with Bolero holidays who I can only describe as amazing. Nothing was too much trouble, the staff were lovely and our mobile home was great.
July 2011 - Bolero and Union Lido, a great match

Recently returned from a stay at this camp site after spending a wonderful week in the care of Bolero Holidays.


July 2011 - Ssssshhhh BEST KEPT SECRET IN ITALY

Bolero provides outstanding mobile home accommodation and nothing is too much trouble for John, Margaret and their super staff.


July 2011 -
Bolero Holidays at Union lido, Italy
What a great holiday!!!! For the first time in years we go exactly what we wanted; a relaxed family holiday, clean pools and beaches and excellent staff on the site to help if necessary.


June 2011 -
Bolero Holidays and Union Lido - a FANTASTIC combination!
We have recently returned from Union Lido with Bolero Holidays and I must say that we had the most FANTASTIC holiday, from start to finish it was perfect!

June 2011 -
I've been 7 times and going back for an 8th this year!
I could not think of one bad thing to say. This is the most amazing site me and my family have ever been on! We stay with bolero holidays (www.boleroholidays.co.uk) and we have the best 2 weeks.

May 2011 -
Great stay with Bolero holidays
Had a great time at Union Lido- and this place is fantastic for kids especially toddlers.

January 2011 - Union Lido with Bolero Holidays

We visited Union Lido for the 9th time last August and again we were very impressed both with the site and also with the welcome you get from Bolero Holidays.


October 2010 - Bolero Holidays - Union Lido, Italy

Bolero Holidays, within the site, is a British concern run for the last 25 years in Italy on the Union Lido campsite by John Robinson and his wife, Margaret.
August 2010 - Yet another fantastic holiday with Bolero once again! - Union Lido

Bolero once again provided us with another great family holiday.


July 2010 - Union Lido is a fantastic campsite, my children had the time of their lives and WILL be returning next year!

I went to this campsite with my husband and 2 children aged 6 and 9 i went with Belero Holidays and we all had a wonderful time.

June 2010 - Union Lido Plus Bolero Plus Ice Cream Equals A Taste of Paradise

What Is Union Lido? Union Lido is often called a campsite; but that's like calling a Rolls Royce a car.

September 2009 - Bolero Holidays at Union Lido have the complete camping package

I have just returned from yet another fantastic holiday camping at Union Lido with Bolero Holidays. All the arrangements made by the Bolero team all worked like clockwork.


February 2009 - Venice & Union Lido
Our friends told us to shop around for the best deals and to look at the holiday companies that operate on Union Lido.

September 2007 - Great Place

This is a great place as everything you want is on site. great pools and if youre lucky very near the beach. We booked with Bolero so knew already that we were near the beach.

September 2007 - Fantastic Camping Experience
Like others reviewing this we went with Bolero who were pretty flexible about meeting our needs onsite and would recommend them. Their location is fantastic too - slap bang in the middle of the campsite.
August 2007 - Amazing
We live in the UK and booked with Bolero. They exceeded my expectations in every area. They are quite small and very friendly and if you are able to book with them, then you should.
August 2003 - Fantastic for families
We have always used Bolero Holidays. This is a family firm and we have always been given personal attention. Their service is unfailingly first rate and their prices are very fair.